)|(
---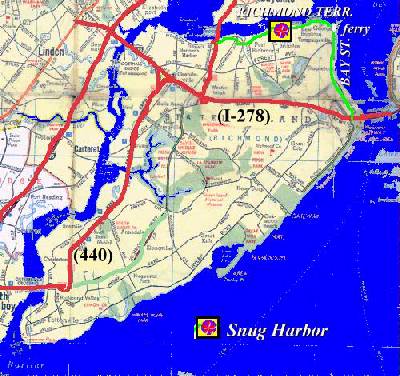 How To Get To Snug Harbor / Art Lab Gallery
(Snug Harbor)
From the Staten Island Ferry by foot, bicycle,
motorcycle, car, skate, etc.: Coming out of the
ferry terminal, turn right and proceed west along
Richmond Terrace for about two miles. The Snug
Harbor complex consists of a large campus with
several 19th-century "Federal" style buildings,
surrounded by an old iron fence. The Art Lab is
at the further (western) end of the Snug Harbor
complex.

By taxi or jitney: tell the driver you are going
to Snug Harbor. If he or she doesn't know what it is,
find another.

By bus: Take the 40. Ask the driver to announce
the stop, and keep a sharp lookout (see above) for
that big iron fence.

By car from the Verrazzano Bridge: Keep to the
right and follow signs directing you to Bay Street.
Pay the excruciating toll and exit as far to the
right as possible. You will briefly be on Lily
Pond Avenue, which turns silently into School Road;
then you will come to the end of the street and a
stoplight; turn left (northwest) onto Bay Street.
Follow Bay Street to the Staten Island Ferry
terminal. Then bear left onto Richmond Terrace.
See above. If you get lost, drive north; you are
on an island, and will inevitably get to either
Bay Street or Richmond Terrace, or fall in the
water.

By car from Bayonne Bridge: Take the first
possible exit, drive back under or beside the
bridge, (Morningstar Road) and get to Richmond
Terrace, which the bridge crosses. Turn to the
right and drive east to Snug Harbor. Notice the
magnificent industrial scenery. Bayonne Bridge
was voted the most beautiful bridge to be built
in 1939.

By car from the Goethals Bridge: You are on
Route I-278 heading east. If there is a lot of
traffic, take the Bayonne Bridge exit, take the
last exit before the Bayonne Bridge, turn left
coming out of the exit, follow that street to the
end, take a right, go two (short) blcoks and turn
left (onto Nicholas Avenue.) Proceed north to
Richmond Terrace, turn right, and drive east to
Snug Harbor.

Otherwise get off at the Richmond Road / Hylan
Boulevard exit, turn immediately to the left
onto Clove Road, follow Clove Road to Bement
Avenue, Bement to Richmond Terrace, turn right
(east). If you miss Bement you will still
come to Richmond Terrace, turn right (east).
If you miss the Richmond Road / Hylan Boulevard
exit, take the next (Lily Pond Road) exit, turn
left (north), proceed to end of road, turn left
(west) onto Bay Street, and see two paragraphs
back (Verrazzano approach).

By car from Outerbridge Crossing (Route 440):
Take the West Shore Expressway to the point
where it joins the Staten Island Expressway
(I-278), take the right fork (toward the
Verrazzano Bridge) and see the directions in
the paragraphs immediately above. On this
route you will pass the largest garbage dump in
the universe.

Suggestions, complaints, derision, etc., about
these directions will probably be appreciated
and may serve to improve them. Write to
infob215.com