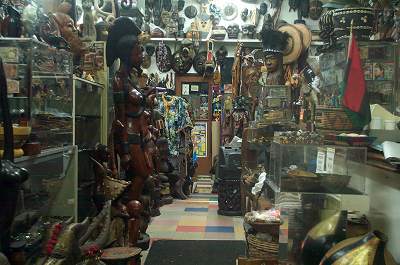 Interior view of Nyambinghi's African Shop,
August, 2001
In August of 2001, ETAOIN was fortunate enough to receive the gracious permission of Nyambinghi's African Shop, at 111 Chambers Street in New York City, to phograph and publish selected items from the store.
The store was crowded with African arts and crafts of every description, from postcards and cowrie shells to imposing pieces of bronze sculpture and authentic, working musical instruments. A wide selection of jewelry and African clothing was also available at a wide range of prices.
For this present exhibition, we are concentrating on traditional sculpture. Although African art has profoundly influenced modern European and American plastic arts, knowledge of it remains obscure to most people outside the area of its origin. We would be pleased to receive information on any items, or to answer questions about them to the extent that we can.
Unfortunately, due to the changes which occurred in Lower Manhattan as a result of the destruction of the World Trade Center, Nyambinghi's African Shop on Chambers Street has closed its doors and is no more. This record of its rich existence remains, although we regret that it could not be more complete.